Fugitive of the week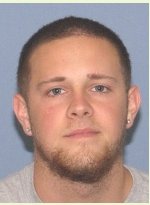 Steven A. Suveges
age 23 (DOB April 18, 1995). He is a white male, blue eyes, brown hair, 5'9" and approximately 180 pounds.
Wanted for:
Wanted for felonious assault (North Royalton) and a probation violation for drug trafficking offenses.

Last Known Address:
IF YOU HAVE INFORMATION CONTACT CRIME STOPPERS. YOU WILL REMAIN ANONYMOUS AND MAY GET A REWARD.
Do not attempt to apprehend on your own.